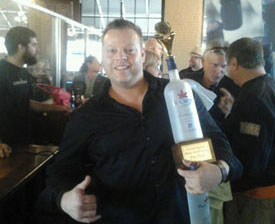 Rob T. Cleveland Bartending School instructor, Cleveland's Best Bartender and mixologist extraordinaire is at it again. He's picking up awards like women pick up shoes LOL..he just won last night's best Bloody Mary "proud mary crusta" held at Market in Rocky River. Way to go, we're PROUD of you also....


Bloody Mary Mania
By Dwayne Yates - 2012 Cleveland Bartending School Graduate
Pitch-black sunglasses and tons of ibuprofen might not be the only components needed to rid yourself of a nasty hangover. Adding a Bloody Mary to the mix is said to be the key way to make the room stop spinning after you've had a crazy night of drinking.
Waking up and throwing your comfiest weekend sweatshirt on to visit your favorite breakfast bistro is always a fun thing to do with friends early mornings after a great night out.
Once you enter the door, inhaling that strong smell of coffee wakes you up and catching a fresh whiff of toast gets you excited for the meal you're about to be served. But nothing is going to compare to the pleasure you get from sipping a flavorful Bloody Mary just as the clock is about to strike noon. It doesn't matter if there's soothing jazz music playing in the background or a rowdy football being broadcast, you're feeling great, and it's not even your birthday.
A Bloody Mary is no longer carrying the stigma that it's to be exclusively enjoyed by the mature and very rich. A wider range of people is discovering the joys of a great Bloody Mary because not only can this tomato juice cocktail do wonders for your health with its fresh juices and ingredients, it can also put you in good spirits just when you thought that pounding headache was about to ruin the rest of your last day off from work.
The best part is that more and more bars and restaurants are recognizing their patrons' desires for more great afternoon cocktails like the Bloody Mary. And now they're tailoring their brunch menus around food that goes well with mid-day cocktails. Many of these drinks are being promoting as afternoon specials along with salads, salmon and hors d'oeuvres these days. And some bar managers are even starting to set up build-your-own Bloody Mary bars where patrons pay for their vodka, visit a table where they can add their own tomato juice, Tabasco sauce, horseradish, celery salt and pepper to the glass and, if they like, they can stir it all up with a celery stalk. They have the option to use whatever ingredients they like. That's the best part about a bloody mary—not everyone enjoys them the same way, which makes it truly a customizable cocktail.
That's why people aren't just garnishing their Bloody Marys with a celery stalk anymore. Many places with build-your-own bars provide lemon, olives, shrimp, bacon, cherry peppers and beef jerky for customers to top off their Bloody Marys. With all the spices and its vegetable juice base, a bloody mary often gets considered a meal to people who eat light. Sometimes, the heartier the Bloody Mary is, the better it tastes. But while some people enjoy their Bloody Marys thick with lots of tomato texture, others prefer theirs watered down and spicy with lots of vodka.
Once you learn how to make your perfect Bloody Mary, you won't even need to leave your house to get it. All you need is a bottle of vodka handy with plenty of fresh ingredients and a glass. But this isn't just an excuse to get up in the morning and start drinking. This is your chance to have a gourmet drinking experience, so strap on your best bathrobe and slipper combination, pin a boutonniere to your lapel and grab the ingredients listed below. Bon appetit!
Dewayne's Recipe
1 1/2 oz. Vodka
1/4 oz. Lemon Juice
3 drops Worcestershire
3 drops Tabasco
2 dashes of Salt
2 dashes of Pepper
Fill with Tomato Juice
Shaken and poured into a tall glass
Garnish with shrimp
When it comes to using alcohol to cure a hangover, many people believe they have to bite the dog that bit them by continuing to drink the alcohol they had the night before. It's always nice to chase a Bloody Mary with your beer of choice, but vodka can be replaced with other liquors to create different bloody drinks.
Use Irish whiskey instead of Vodka for a Bloody Molly
Use Whiskey instead of Vodka for a Brown Mary/Whiskey Mary
Use Tequila instead of Vodka for a Bloody Maria
Use Sake instead of Vodka for a Bloody Geisha/Bloody Ninja
Use Bacon Vodka instead of Vodka for a Bloody Hogger
Add Sherry in equal amount to Vodka for a Bloody Bishop
Playlist:
"Sunday Kind of Love" - Etta James
"In a Sentimental Mood" – Duke Ellington
"Take Care" – Drake
"The World Is Yours" – Nas
"Smooth Operator" – Sade
"Easy Lover" – Phil Collins
"Tell me Lies" – Fleetwood Mac
"At Last"—Etta James
Cleveland Bartending School Director Recipe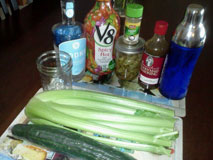 Couple dashes Black Pepper & Celery Salt
2 slices Cucumber & Celery, One Teaspoon Special Oil
Muddle & Add Ice,
1 1/2 oz. Premium Vodka
1 oz. Demetris Bloody Mary Mix Chili Pepper
Fill with Tomato Juice, V8, or your preference
Shake it 8-10-times to WAKE it.. lol
Garnish with Celery Stalk, and Rim Glass with Demetris Bacon Flavor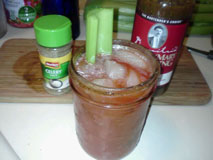 Enjoy between 10am -1pm while listening;
Al Green; Love and happiness
Etta James; At last
Etta James; Sunday kind of love

Then repeat once more
Rob Turek's Best Bartender Recipe
Dublin's Mona Mary:
1 1/4 oz. Vodka, Muddled Chili Pepper, Dash of Celery Bitters,
Dash of Cumin, Muddled Basil Leaves
Add Ice
2oz Guinness Draught,
1 1/2 oz Monavie, 2 oz Bloody Mary Mix....Shake Vigorously!
Garnish with a Basil Leaf
PBSA Bloody Mary Recipe
1 ½ oz. Vodka
3 ½ oz. Bloody Mary mix
Shaken and strained into a tall glass
Celery stalk garnish
Create Your Own;
Email your recipe, pics and comments to This email address is being protected from spambots. You need JavaScript enabled to view it.
We may post on our blog or our Bloody Mary page!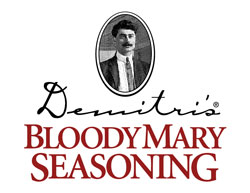 Demitris Bloody Mary Products may be purchased at the Cleveland Bartending School.
Call the school for details at 216-382-1450!