"Cocktail season is here! What a relief!"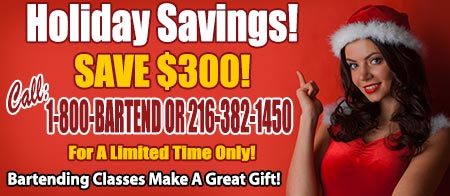 Imagine feeling like that all the time...

Put some more fun in your life making an average $100 - $200 per shift.


Last Call, offer ends soon.
We have job openings now!
With a waiting list of great bartending jobs.
We can help you start working right away.

CALL NOW TO ENROLL AND ASK FOR WILL
216-382-1450 or 1 800 BARTEND
Fill out the Quick Contact form in the right column on this page to request more information via email.